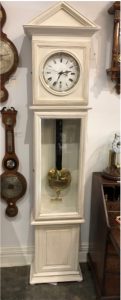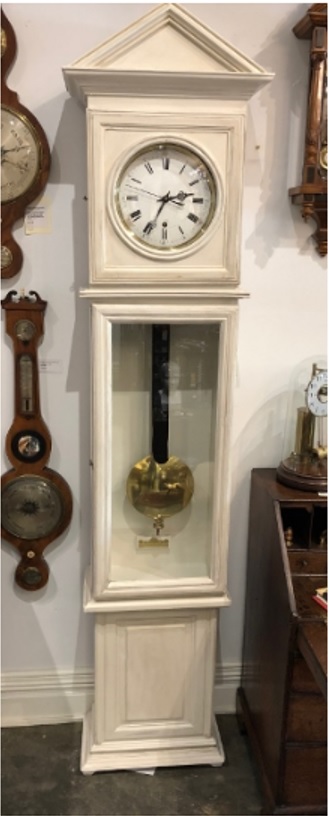 If you are looking for a clock that will have a serious impact on the atmosphere of your living room or office it's an antique longcase clock. The sheer size of these clocks make them very present anywhere they are positioned.
Longcase clocks are weight driven, where the weights are located in the tall floor-standing case. This is also the reason an alternate name for longcase clock is antique tall clock. It is said that the song "My grandfather's clock" composed by Henry Clay Work is the reason the third name for these clocks is antique grandfather clocks.
The original dial was made of brass with a silvered chapter ring. In later days brass was replaced by painted wood. Besides the dial, ost of the materials of the longcase clocks are made of oak, walnut or mahogany. Because the base of the clock is so tall, there is a lot of room for decorations and customisation. This leads to a wide variety of these tall clocks.
Originally many longcase clocks were built in England from makers such as Knibb, Tompion and Fromanteel. But production got increased significantly when the Dutch started producing them as well in the 18th century.
Besides its size and beauty these clocks also have a high life expectancy when taken care of properly and they are often passed from generation to generation.
Are you looking for a longcase clock? Make sure you view our online category or come to our store in Nedlands, WA, Australia. If you can't find what you are looking for, you can also send us an e-mail or give us a call as we also scout for specific clocks on request.