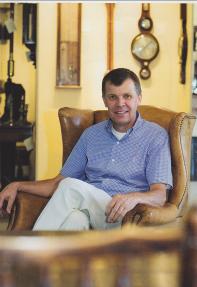 Jot Rijks, born in the Netherlands, is the owner of Dutch Antiques and is a qualified clockmaker. Jot completed his four-year full time study at the Christiaan Huygens School in Rotterdam, the Netherlands in 1976. He worked at Garrad's The Crown Jewellers in London, England, and also at Thomson Time Centre in Nashville, United States. Back in the Netherlands he started his own business in the repair and restoration of antiques clocks. In 1996 he began supplying the trade and attended most of the important clock fairs in Europe and the USA. In 2001 Jot and his family migrated to Perth, Western Australia, where in 2003 he moved into an existing clock shop at Stirling Highway, Claremont, WA and joined the Watch and Clockmakers of Australia. In 2010 Jot moved into his own premises in Chelsea Village:  unit 23 , 145 Stirling Highway, Nedlands, WA where he is still located today.
In Nedlands the shop has a wide range of antique clocks and barometers for sale and Jot carries out his own repair and restoration work at his fully equipped workshop on clocks as well as barometers. The shop also has a wide range of antique and new scientific instruments for sale.
Over the years Jot has written several articles and booklets about his interest in Antiques clocks. As a result of his experience and connections Jot is able to locate the item you are looking for.
Also on show at the shop is the collection of More Than Antiques (MTA), an affiliate of Dutch Antiques, which specialises in small decorative items and antique country style furniture.
Restoration Services
All quotes made for restoration and/or repair are free of charge. All repairs and restorations carried out are given a yearly guarantee. Pick-up and drop-off service within the Perth metro area are offeree and are generally free of charge; conditions apply. Certain repairs can be done at your own premises and will be charged per hour.
Sales
All clocks and barometers are sold with a 1 year guarantee, however to the trade everything is sold as is. On line sales are excluded from any guarantee because of the sensitivity of our products.
Payment
All major credit cards (except American Express), paypal, cash and money transfer are accepted. All sales and repairs have to be paid in full on collection or delivery.
Shipping/Postage
Our customer base is world wide and therefore we offer a high quality packing and shipping service, which will all be done against cost price. Please contact us for a quote.