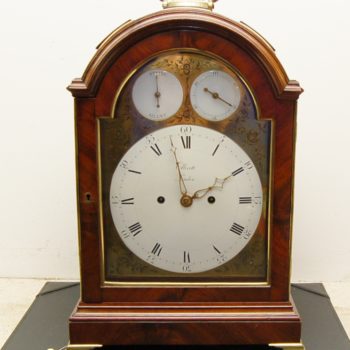 Ellicott English bracket clock
Ellicott of London George III mahogany bracket clock.
Ellicott, London, a good George III mahogany bracket clock, the brass mounted triple pad top case above signed circular 18cm enamel dial and twin subsidiaries above for regulation and strike-silent, set on an engraved 9inch brass dial plate, the twin fusee movement marked for Thwaites, the shouldered plates with engraved border and signed 'Ellicott London', bell striking with pull repeat cord, the rear of the case stamped '931', 43cm high, together with a later wall bracket
Provenance: Meyrick Neilson of Tetbury, where purchased by the vendor's husband in 1973.Auctioned in Cambridge 2016 purchased by local (Perth) collector. Purchased by
Dutch Antiques in August 2017.
Literature: John Ellicott (1706-1772) was one of the finest clockmakers of the 18th Century. He was elected a Fellow of the Royal Society in 1738, serving on its council for three years. In 1760 he was joined in business by his son Edward and in 1762 he was appointed Clockmaker to the King. Thwaites supplied high quality movements to a number of clockmakers, including Allam and Clements, Henry Borrell, Dwerrihouse and Carter, Thomas Earnshaw, John Leroux, Francis Perigal and James Tregent.